Welcome to Tavistock Physio Clinics
Covid update, we are OPEN!
Our Clinics at Tavistock, Lamerton and Yelverton remain open.
We adhere to our stringent Covid secure policies
Please be assured, the safety, health and well-being of our clients and staff is our priority.
On going daily zoom Pilates, Yoga, and Rehab classes.
Face to face and online Physiotherapy consultations
All our classes are now on line for the duration of the lockdown rules. Together we'll get through this!
New Online Back Care Masterclass
This is a 6 week coaching course helping you to understand how your back works, exercise routines and introducing CBT (Cognitive Behavioural Therapy) to help you when your back and life doesn't go to plan
Click here for more information and to preview the course
Online Pelvic Floor Masterclass now live

Learn about how your body and pelvic floor works, how to exercise to improve your pelvic control, and feel your confidence and general fitness grow

join us for our 1st online live zoom chat 10am Wednesday November 18th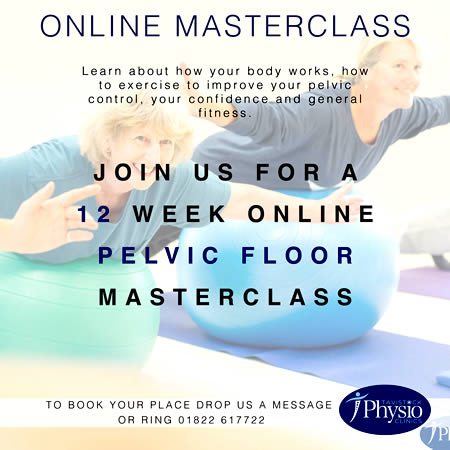 On-line Pilates
Each week day we have a live streamed class with a different theme:
Mondays 9am Pilates exercises for weekend gardeners stiff backs!

Tuesdays 9am Pilates for hips and knees stretching strengthening

Wednesday 9am Pilates focused on looking after your pelvic floor

Wednesday 10am Womens Health Pelvic Floor 15 minute live chat

Thursdays 9am Clinical Yoga

Fridays 9.15am Pilates for Body maintenance
If you have never done Pilates before or have an injury, you would benefit from an online one-to-one Pilates session or a Physio appointment before you commence our classes, so that your class instructor will know your ability. We will send you an email with a health questionnaire before your first session or we can send you a Youtube Pilates basics link to get you started!
Classes will run using the free Zoom app. You will receive the Zoom password and YouTube link (for any catchups needed) once you have completed payment for the class.
We look forward to seeing you.
We also offer a well equipped rehabilitation gym and Pilates Studio, where we run regular Pilates Classes (including a Men Only Pilates class), Falls Prevention Balance Classes, Back Therapy Group, Ankle Therapy Group, Hip and Knee Therapy Group and Wellbeing Fitness classes, all at Lamerton Physiotherapy Clinic.